Okay, so... :) Jack went to a new home with a family on 10 acres of land. I'm so jealous of him and hope we get pictures of him living it up soon :)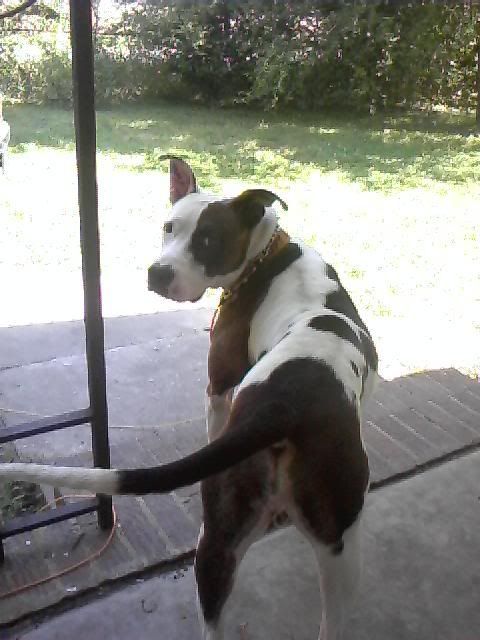 Our adoption event on the 7th and 8th went well too and we got to meet a lot more wonderful people! A special thanks goes to Marva for helping man a spot both Saturday and Sunday and for spoiling Mia with a toy and snazzy new collar! Bill and Anita, once again, THANK YOU for buying some goodies for the pooches in our program. Mia LOVES the ball/rope/firehose bone toy you both got for her :)
Speaking of Mia, no applications on her yet! Everyone who has met her absolutely adores her and I go home and scratch my head every day wondering WHY she hasn't been adopted yet. She is a go anywhere do anything kind of dog. She's a clown and LOVES attention. She's a good dog! Whoever you are out there that's looking for a dog, come out of your hiding spot and take a gander at Mia!
Let's see....what else?
Yesterday, we brought in a new boy named Beacon. Beacon could be right around 18 months or so but he's so underweight and affected by poor nutrition that it's hard to say. He found his way to the home of one of the board members of the animal shelter. He was severely emaciated and badly wounded. His scars indicate that he may have been used to bait other dogs into fighting but no one can confirm that information. Beacon had been at the shelter since March and in that time, they treated his wounds and started trying to get some weight on him. Beacon is still VERY small and could stand to gain 15lbs+ to be at his appropriate weight. He weighed in at a meager 33lbs when we took him yesterday. His spirits are high though and he is a WONDERFUL boy thus far. He needs a crash course in manners and house rules but its nothing that basic training won't fix :) He's very eager to please and his focus is on people. Also, there is a very good possibility this boy could go to a home with small animals. He unexpectedly met a stray cat yesterday and just wanted a good sniff. After that, he was back to looking to people for more attention and direction. We're VERY optimistic about Beacon!
If anyone would like to donate towards Beacon's care, please feel free to contact us at donations@nhpbr.org. Thank you everyone!