Last week, we were contacted by a good Samaritan who didn't find just one, but THREE emaciated pittie girls in our local area. She contacted us via email and shared some startling pictures with us.
To the right here is Phoebe and Piper. Phoebe is laying on the ground looking exhausted. Piper just seems to have no clue what is going on.
These photos prompted us to try. Finding foster homes is SO tough and can be even tougher with a shaky economy but, we're also here to rescue and rehab the dogs that we can in our local area. So, our plea for help began last Saturday. We affectionately named the girls Piper, Phoebe, and Prue from the characters in the TV series Charmed :)
We've spent the last few days getting the evaluations done for the girls and were VERY lucky to find a foster home for one of the girls, Ms. Piper. During our eval, Piper made it very well known that she is going to be a clown who adores people and is going to have this zest for life, regardless of her past. She is buoyant and prancy and she just simply makes us giggle! And she's obviously a great lap dog :)
Take a look at Piper just being her silly self with complete strangers. She is part of the reason why we love this breed SO much!
Piper is the lucky one thus far. Even though it's been a week, we're still pining away where ever we can to find two more locals to help get Phoebe and Prue out of the shelter. These girls also did very well on their evaluations but are going to need a little more care. They are a low heartworm positive so they'll need a committed foster home ready to spend the next 6 months at least making sure these girls are healthy and ready to move into their forever home.
Prue is the other brindle female with an endearing white blaze on her face :) Unfortunately, she was in heat for our evaluation and was a little more interested in the boy dogs nearby than playing with toys with us, but she was very responsive to people and came back frequently asking for attention. She's a spry little girl who seems to have the same prance as Piper, but isn't as comfy yet to really let her little personality shine.
Check out Prue in her video below and please
Apply to Foster
her today!
Phoebe is probably in the worst shape of all three girls. She's having trouble gaining the weight that Piper and Prue have but she's definitely in much better spirits from a week ago.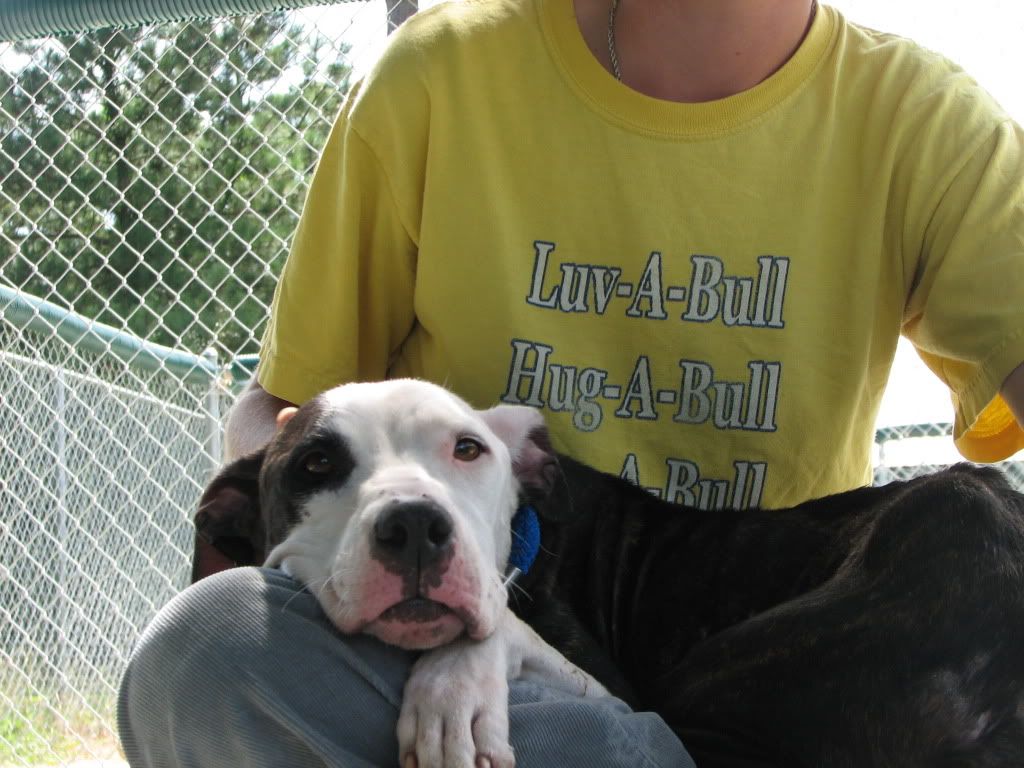 This girl LOVES to melt into your lap and soaks up every bit of attention she can get. She also had a great, appeasing response to another female dog that came out to the play yard during her evaluation. She willingly offered her belly and was super polite. She, like Piper and Prue, came back willingly for more attention when called :)
And if you don't believe us when we say she wants to melt into your lap, we have just the video to share with you to prove it!
Isn't it amazing how these dogs can go from near skeletons, with no knowledge of their past and turn out to be such awesome and FORGIVING creatures? They ability of these dogs to overcome so much is one that we cherish deeply and one that keeps us persevering.
If you can open you home to Phoebe or Prue, please please please
Apply to Foster
one of them today! We provide basic supplies, pay for routine veterinary care, and assist with training and any necessary behavior modifications. Its a win win situation for all involved!