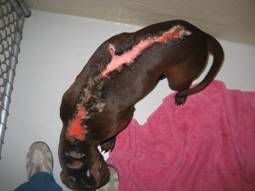 Remember our burned boy from a couple of weeks ago? He's in a new, more long term foster home now and this boy is healing up like the wind! Just to remind you, this is what Phoenix looked like when he was brought to the
Charleston Animal Society
. One of their most dedicated volunteers, Carol, wanted to help save his life so she offered to foster him until we could find a more permanent foster home.
Well, on Friday, September 4, 2009, Phoenix went home with Chelsea, a great girl with a drive to make a difference in Phoenix's life. He'll be getting tons of socialization in Downtown Charleston and other areas and we couldn't be happier :) With some antibiotics and some anti-scarring cream, Phoenix should be good to go in another month! Keep him in your thoughts and go visit downtown! You may just get your chance to meet him :) We'll keep you all updated on when he'll be coming to an event - unless he gets adopted first! Here's a video of this pretty boy showcasing the improvement of his injury. It doesn't seem to phase him at all!
We'd also like to go ahead and give a special thanks to DeDe, Timothy, Miriam, Maureen, Emily, William, and Oleg for their donations towards Phoenix's care. You guys made it possible!